All Motability Scheme WAV Suppliers can help you

Supporting you in choosing the right vehicle and any adaptations you may need

Ordering and supplying your new Motability Scheme vehicle

Arranging a demonstration and test drive to make sure the vehicle is right for you

Facilitating the service and maintenance of your WAV throughout your lease
All our Wheelchair Accessible Vehicle (WAV) suppliers cover the whole of the UK, and will visit you at home.
View suppliers list
Understand more about different WAV sizes
The size and weight of your wheelchair and the number of passengers you regularly travel with will both affect the size of the vehicle that you need. WAV sizes range from small to large and you can see examples of seating layouts below. Please note that other configurations are available.
WAV sizes available
at WAV Product Page
Small WAVs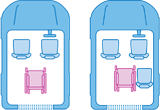 2 to 3 seats
All small WAVs will be fitted with a ramp for entry and generally feel most similar to driving a standard car
Medium-Small WAVs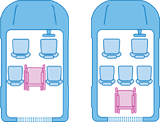 4 to 5 seats
More spacious than small WAVs, but will also have more of a car-like feel in terms of size
Medium-Large WAVs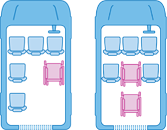 5 to 6 seats
Based on larger vehicles and are the most common WAV for users with larger wheelchairs
Large WAVs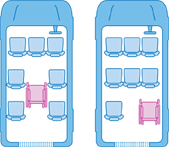 7 seats
Good for larger families or those travelling in the largest or heaviest wheelchair
All are fitted with a lift
Read more about available WAV sizes
New WAVs
Brand new Wheelchair Accessible Vehicles (WAVs) that are specially converted so a wheelchair user can travel.
Driver WAVs
Drive From Wheelchair WAVs are bespoke vehicles with more adaptations than a standard WAV, allowing a wheelchair user to actually drive the vehicle themselves.
Nearly New WAVs
Nearly New WAVs are WAVs that have been returned to us from another customer after less than three years. If you're looking for a more affordable way to lease a WAV through the Motability Scheme, or would prefer a three-year lease, then a Nearly New WAV might be the right vehicle for you.
Read more about available WAVs